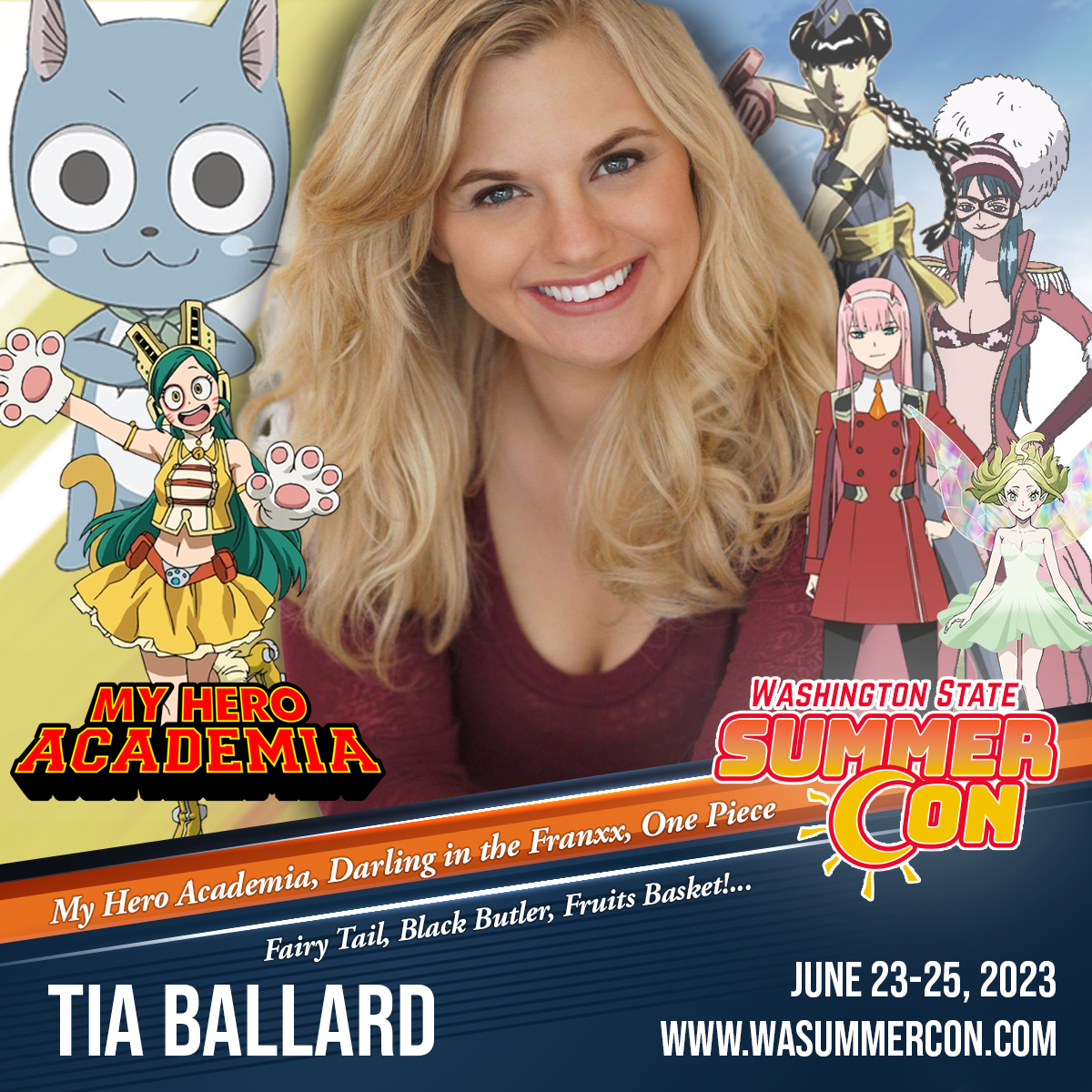 My Hero Academia Cast Photos – $230
(Ballard, Briner, Chapin, Christian, Matranga, Mcguire, Rial)
Standard Autographs – $50
Selfies – TBD
Combo – TBD
(selfies and autograph)
Please welcome a final anime voice actress to the massive Washington State Summer Con lineup on June 22nd through the 25th in Puyallup. Tia Ballard has a significant resume of voice acting, and she is an ADR director and a scriptwriter for Funimation. Tia brings our count of My Hero Academia cast to a staggering SEVEN cast members this year.
In her words, Tia was raised on a generous helping of wacky cartoons and has been in the animation industry for a while! She has played over 250 characters and has spent her time professionally acting, writing, and directing since 2011. You can find her playing everything from adorable children and princesses to frightening villains and, well.. not-so-adorable children.
Her other roles include Zero Two (Darling in the Franxx), Tomoko Shiretoko / Ragdoll (My Hero Academia), Happy the Cat (Fairy Tail, Edens Zero), Porche the Foxy Pirate (One Piece), Nanami (Kamisama Kiss), Kagura (Fruits Basket)! Tia has given voice to Nene (Toilet-Bound Hanako-kun), Marron (DBZ), Bell (Black Clover), Beast (Black Butler), Itsuki (The Quintessential Quintuplets), and many more!
Other roles include the voice for Mizore Shirayuki (Rosario + Vampire), Yoshino/Yoshinon (Date a Live), Chiho (The Devil Is a Part-Timer!) Megumi Shimizu (Shiki), Hannah (Attack on Titan), Rea Sanka (Sankarea), Kusano (Sekirei), Xiao Mei (Fullmetal Alchemist: Brotherhood), Rin Ogata (RideBack), Hibana (Deadman Wonderland), Inaho (Maken-Ki! Battling Venus), Eris (Cat Planet Cuties), and Priscilla (Nintendo's Monster Tale).
Tia was Jianyu, Marlow, and Telephone Voice in Street Fighter V. Her love of voiceover is apparent as it has led to her lending voice to hundreds of projects and directing workshops emphasizing reading with vulnerability and soul.