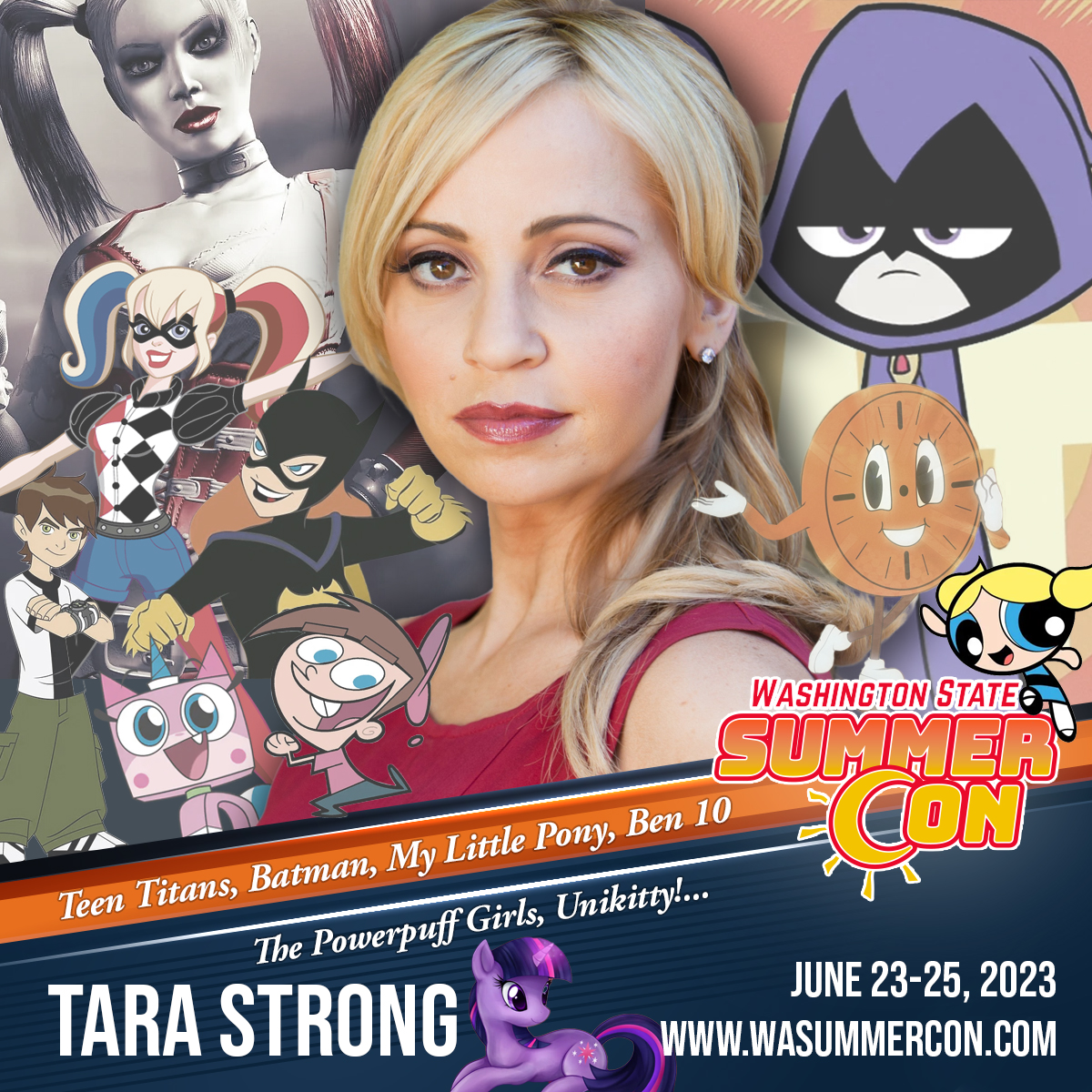 Pro Photos – $60
Titans Duo – $90
Standard Autographs – $60
(Autographs can be purchased at their table)
Selfies – TBD
Combo – TBD
(selfies and autograph)
It is time to add Titan to our lineup. Please welcome the one and only Tara Strong to the Washington State Summer Con from June 23rd through the 25th. She is a titan in the industry with over 600 voice and on-screen credits, and our favorite Teen Titan!
Tara Strong has voiced numerous animated characters, such as Twilight Sparkle in My Little Pony: Friendship is Magic, Iggy and Lemmy Koopa in The Adventures of Super Mario Bros. 3, Bubbles in Cartoon Network's The Powerpuff Girls, and Ben Tennyson of the original Ben 10 series. For Nickelodeon, she did the voices of Dil Pickles in Rugrats and Timmy Turner in The Fairly OddParents. Tara is the voice of the lovable Unikitty in the animated series Unikitty!
She has long voiced Batgirl and Harley Quinn for DC animation for several films and shows, and most of all, Raven in Teen Titans. Strong has worked on several Disney productions as a voice-over artist. Still, her most prominent character was voicing Melody in The Little Mermaid II: Return to the Sea, and recently as Miss Minutes in the Marvel TV series Loki and the upcoming 2024 film Deadpool 3.
Tara Strong began her acting career at the age of 13 in Toronto, Canada. Upon arriving in Hollywood, she quickly made her mark in several TV and Film projects, such as Party of Five, National Lampoon's Senior Trip, Sabrina the Teenage Witch, The Drew Carey Show, and more. She recurred as Miss Collins in Nickelodeon's live-action series Big Time Rush.
Her video game credits include Mortal Kombat X, Metal Gear, Final Fantasy X, and multiple Batman: Arkham titles.