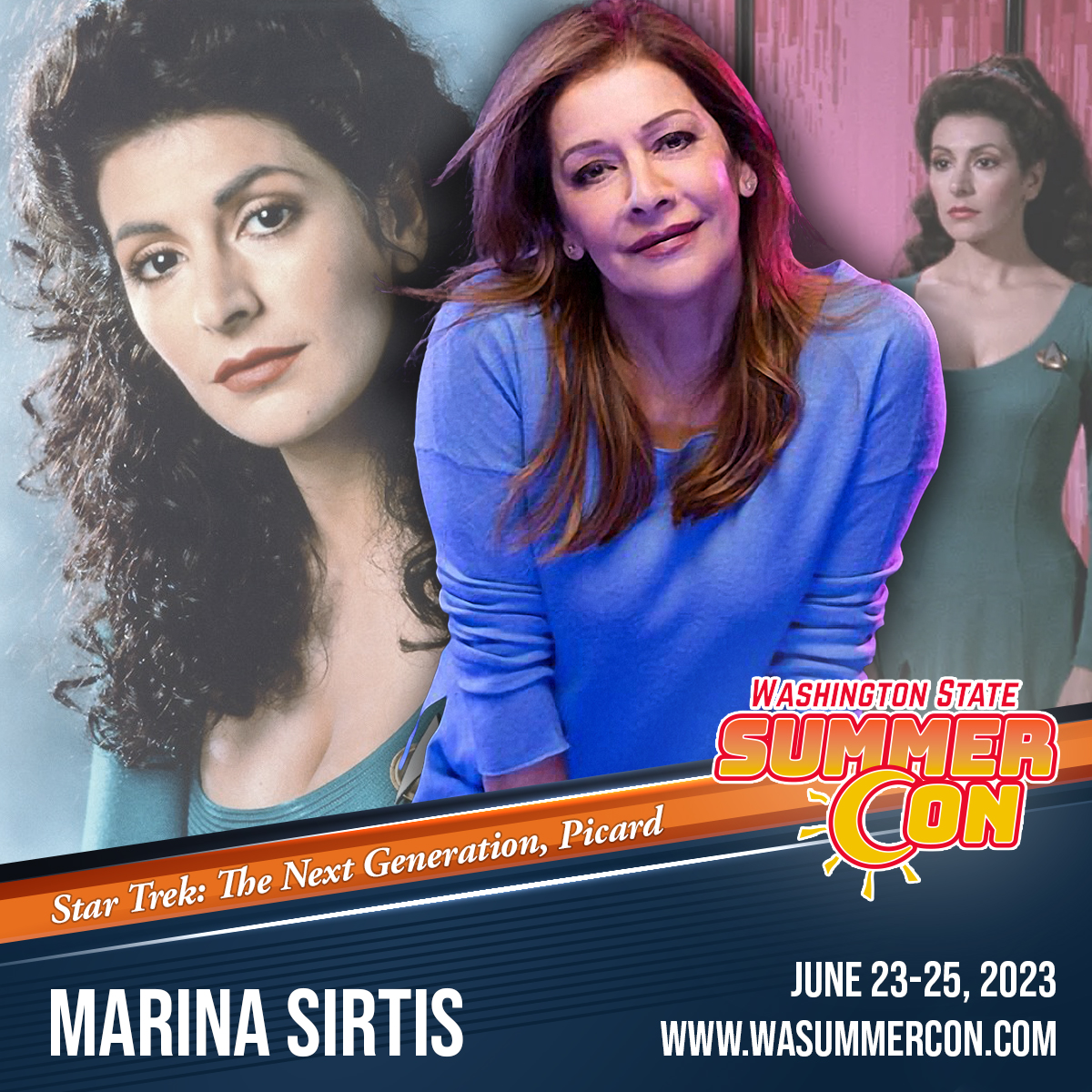 Individual Pro Photos – $70
Riker and Troi Duo – $120
Riker, Troi, and La Forge Trio – $170
The Next Generation Quad – $220
All Trek Cast – $320
Standard Autographs – $60
(Autographs can be purchased at their table)
Selfies – TBD
Combo – TBD
(selfies and autograph)
Deanna Troi to the rescue! Please welcome Marina Sirtis to the Washington State Summer Con from June 23rd through the 25th in Puyallup. Marina is known for her role as the half-human, half-Betazoid Counselor of the USS Enterprise-D in Star Trek: The Next Generation, Star Trek: Picard, and throughout four Star Trek movies.
Marina Sirtis is a British-American actress best recognized for playing Counselor Deanna Troi in the TV series 'Star Trek: The Next Generation.' She is also known for reprising her role in the feature films in the Star Trek franchise. Sirtis continued with her role in Star Trek: Voyager, Star Trek: Picard, and Star Trek: Lower Decks.
She has appeared on many shows as a guest or in reoccurring roles, including NCIS, Stargate SG-1, Family Guy, The Closer, Young Justice, Grey's Anatomy, Titans, and The Orville. She provided the voice of Demona in the animated Disney television series Gargoyles with Jonathan Frakes.
Sirtis has contributed to stage plays, films, and TV programs and has even worked as a voice artist for many video games. She provided the voice for Matriarch Benezia in the critically acclaimed video game Mass Effect.