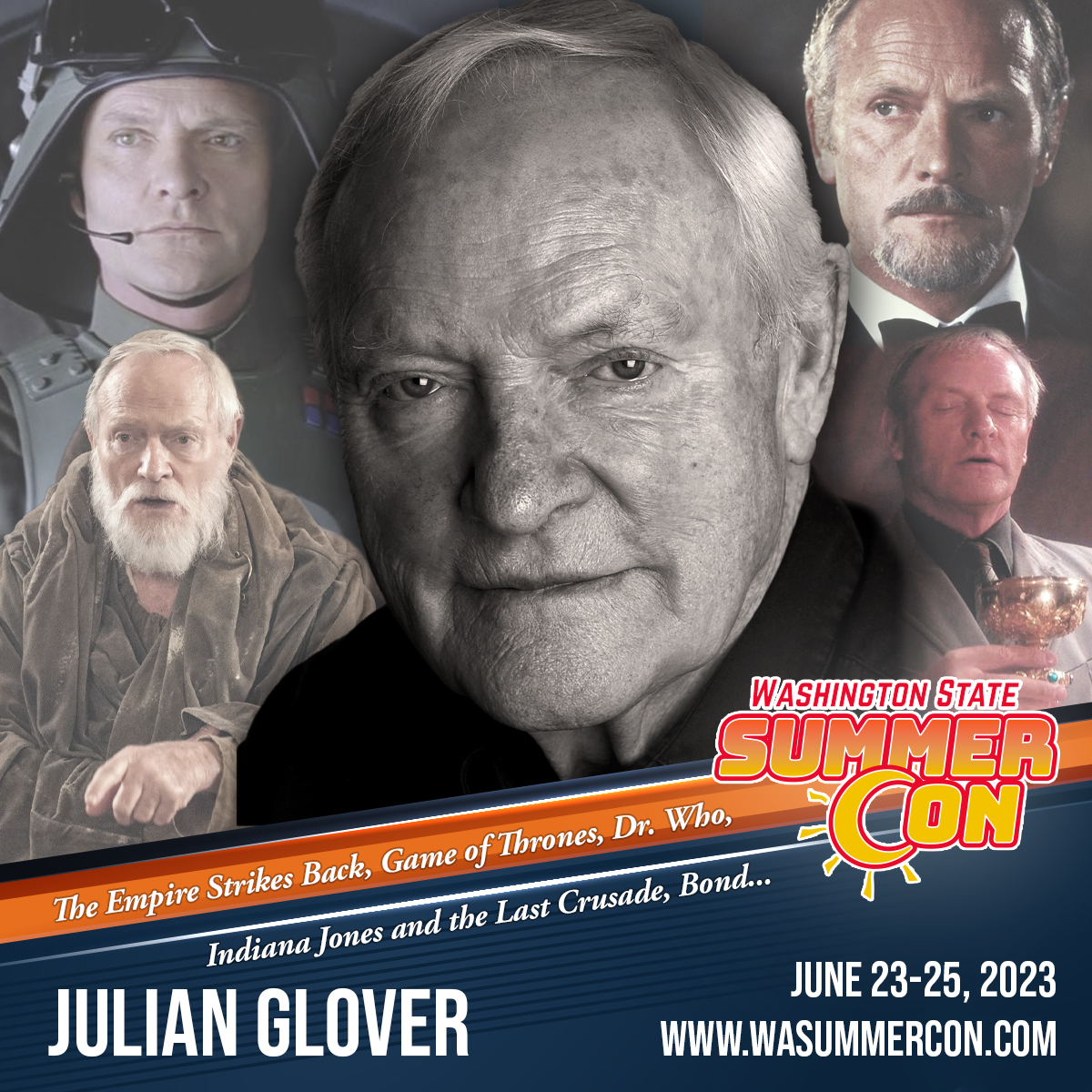 Who is excited to meet a Grand Maester, a General in the Imperial Army, an epic James Bond villain, and a Commander of the Order of the British Empire? Please welcome Mr. Julian Glover, a true legendary actor, to the Washington State Summer Con lineup from June 23rd through the 25th.
Julian Wyatt Glover CBE is an English classically trained actor with many stage, television, and film roles and credits since his career started in the 1950s. He is a recipient of the Laurence Olivier Award and has performed many times for the Royal Shakespeare Company. He was awarded the CBE (Commander of the Order of the British Empire) in 2013.
Julian Glover's best-known film roles have included General Maximilian Veers in the Star Wars original trilogy classic The Empire Strikes Back, Aristotle Kristatos in the James Bond film For Your Eyes Only, Brian Harcourt-Smith in The Fourth Protocol, and Walter Donovan in Indiana Jones and the Last Crusade. Julian also voiced the giant Acromantula spider Aragog in Harry Potter and the Chamber of Secrets.
He is the only actor to appear in the Star Wars, James Bond, and Indiana Jones film series (Star Wars: Episode V – The Empire Strikes Back, For Your Eyes Only, and Indiana Jones and the Last Crusade), respectively. On all three occasions, he played a villain.
Julian has also appeared frequently on television, especially in Britain, including guest appearances in cult series such as The Avengers, The Saint, Thriller, Doctor Who, Blake's 7, Remington Steele, and Inside No. 9. He also played the recurring supporting role of Grand Maester Pycelle in HBO's Game of Thrones throughout the series. He appeared as General Beauvilliers in the BBC drama Spies of Warsaw.