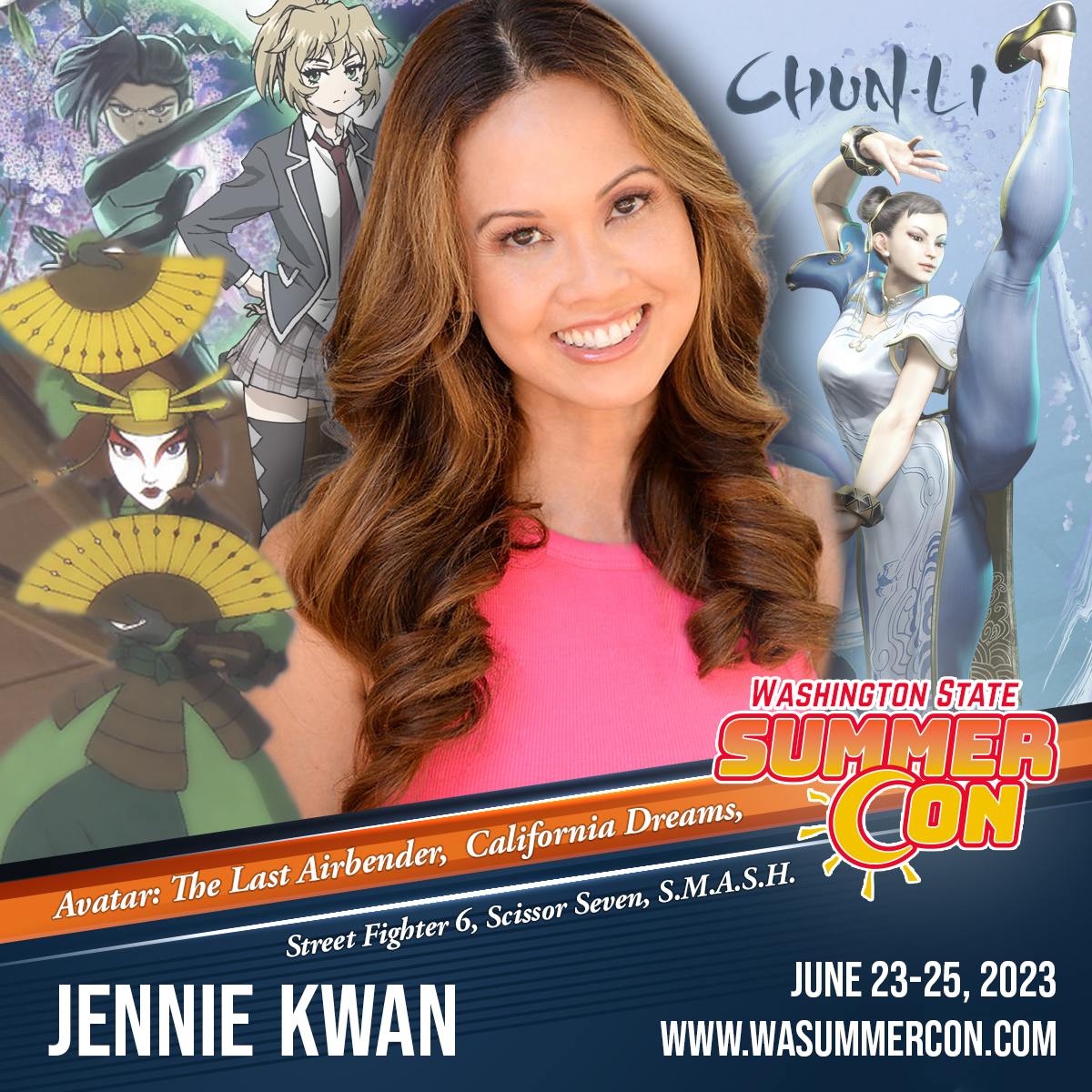 Pro Photos – $60
Entire Cast Photo (Eisen/ Basco/ Flower/ De Sena/ DeLisle/ Baldwin/ Hack/ Kwan) – $350
Standard Autographs – $50
(Purchased at the Show)
Selfies – TBD
Combo – TBD
(selfies and autograph)
We had to add one final cast member for this year from Avatar: The Last Airbender to the Washington State Summer Con lineup from June 23rd through the 25th Please welcome Jennie Kwan to Puyallup this summer because Suki is awesome, AND Jennie is also the voice of Chun-Li in the upcoming Street Fight 6, which will be featured at Summer Con.
Jennie has also lent her voice to the world of animation. Fans recognize her voice as Suki on Avatar: The Last Air Bender, as well as in all the video games for the series. Suki, the character she voiced in Avatar: The Last Airbender (2005), was initially meant to be a one-time character only. Still, she proved to be so popular with fans that the writers kept bringing her back until she became a regular.
In June, the highly anticipated Capcom release of Street Fighter 6 will be released with Jennie voicing the legendary Chun-Li. Her additional video game credits include Kakushi on Demon Slayer, Aina on .hack//G.U. Last Recode, True Crime Hong Kong, and Suki on Avatar.
Jennie also has an array of credits in the on-screen television world. She was introduced to television as the regular Samantha Woo on the California Dreams series. She has had parts on New Girl, Anger Management, Beverly Hills 90210, The Nanny, Family Matters, and Oliver Stone's mini-series Wild Palms.
Some of Jennie's film credits include Entourage, Promoted, Trojan War, the recent Netflix animated The Witcher: Nightmare of the Wolf, and the new Japanese film Suzume.
Jennie's additional voice credits include Demon Slayer, Scissor Seven, Dr. Dee and Bit Boy, Eureka 7, BlazBlue, Rozen Maiden, Twinkle Toes, When They Cry, Accel World, High_Rise Invasion, S.M.A.S.H., Summer Time Rendering, Detective Conan: The Culprit Hanzawa, and many more.