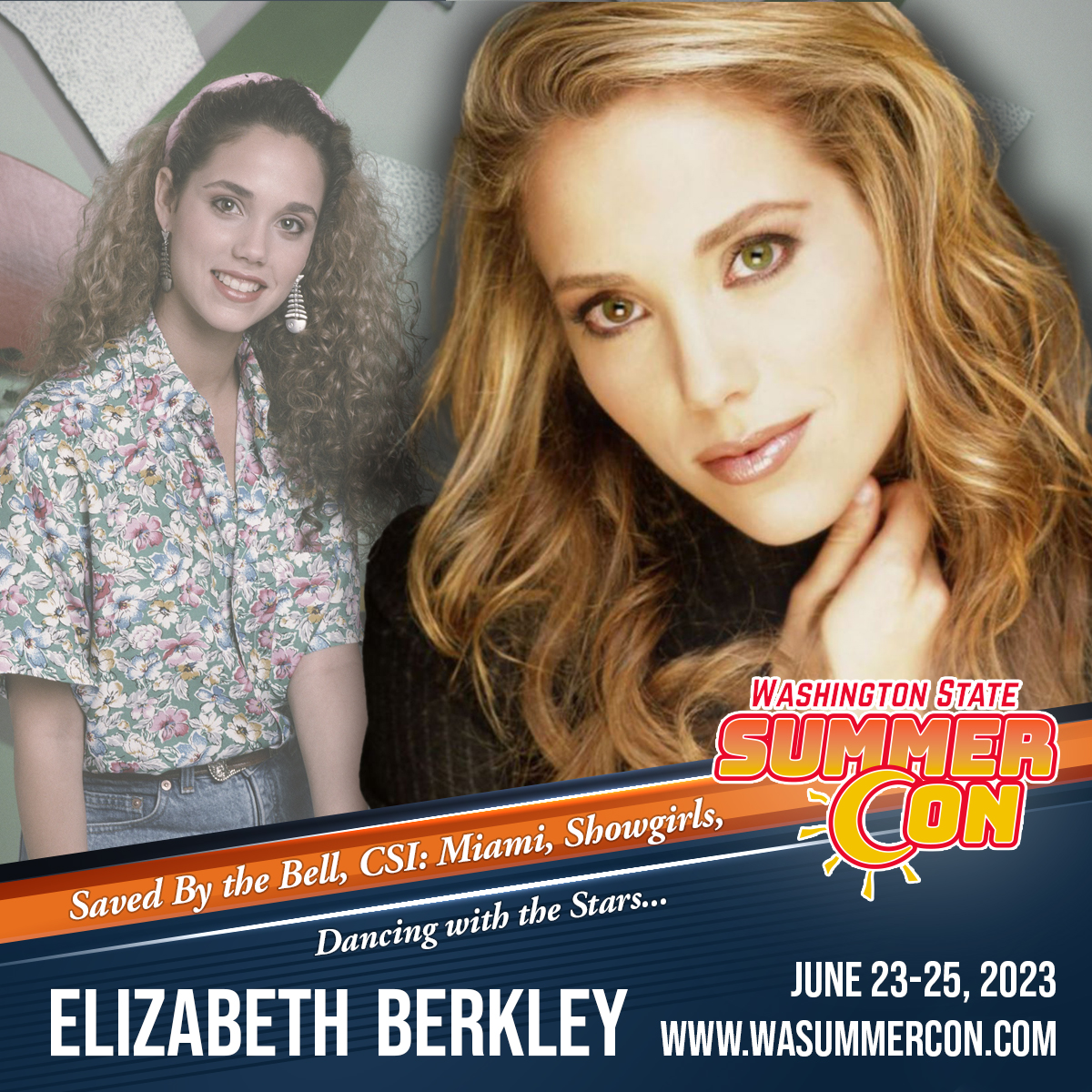 Standard Autographs – $50
(Autographs can be purchased at their table)
Selfies – TBD
Combo – TBD
(selfies and autograph)
We are so excited, and we just can't hide it. Elizabeth Berkley quickly said YES, and is heading to the Washington State Summer Con from June 23rd through the 25th. Elizabeth will join Mario Lopez for Jessie and Slater's Saved By the Bell reunion in Puyallup.
Elizabeth started her career with a small part in "Gimme a Break!" in 1981. After guest roles in series like TV 101 and Day by Day, she landed a regular role in Saved by the Bell in 1989. After four seasons and a TV movie, she left the show to try to break into feature films. In 1994, she was cast in Showgirls, The First Wives Club, and Oliver Stone's Any Given Sunday.
Berkeley spent years in the theater, including the acclaimed West End production of "Lenny," directed by Sir Peter Hall and starring Eddie Izzard. Her performance in Dylan Kidd's Roger Dodger in 2002, released in 2002 after a successful festival tour, impressed the critics. The box-office hit "Sly Fox" marked her Broadway debut in 2004. Her performance in the Off-Broadway production "Hurlyburly" earned her the best reviews in her career.
Berkley appeared for several seasons in the hit series CSI: Miami and in the final season of Showtime's The L Word. She has been cast in guest roles in NYPD Blue, Without a Trace, Threshold, Titus and Law & Order: Criminal Intent. Elizabeth starred in the Lifetime television film Student Seduction.
Elizabeth's non-profit organization, Ask Elizabeth, includes self-esteem workshops she facilitates as a volunteer in schools and youth organizations. The website hosts digital content as a way to help young girls. Her book "Ask Elizabeth" made The New York Times best-seller list. This nationwide effort has affected the lives of over 100,000 girls and counting.